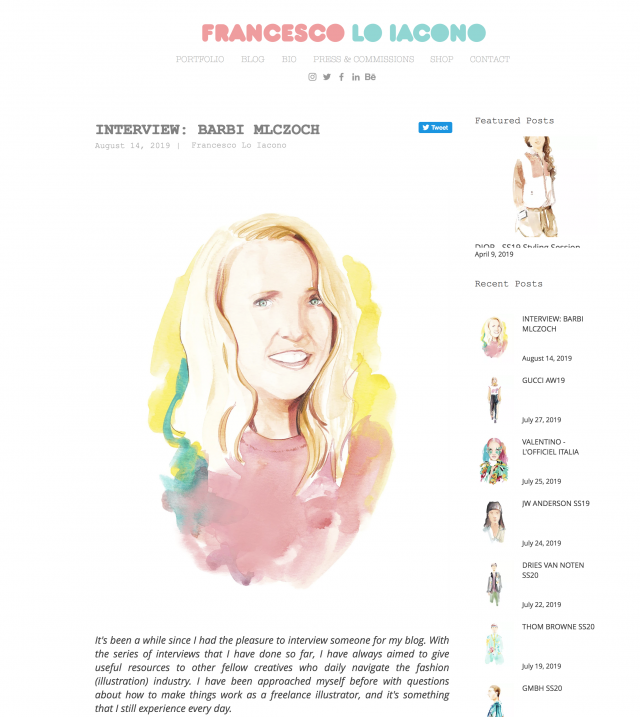 Check out the Interview here.. thanks Francesco! for your great questions!

It's been a while since I had the pleasure to interview someone for my blog. With the series of interviews that I have done so far, I have always aimed to give useful resources to other fellow creatives who daily navigate the fashion (illustration) industry. I have been approached myself before with questions about how to make things work as a freelance illustrator, and it's something that I still experience every day.
So, I thought I could interview Barbi Mlczoch, founder of artist management agency Cosmopola, based in Berlin, as she could offer another point of view of what's being an illustrator today. I hope this interview could give some advice to any illustrator willing to reach out to an illustration and photo agency.
....
Question Nr 3:
What is the toughest part of being an agent?
The toughest part is to keep up with everyone; clients and artists on a personal level. I wish I could beam myself from one place to another, to be on multiple locations in one day, like being on a shooting in London and the next moment being with a client in Munich for a business lunch.
I especially believe in the power of a business lunch. To solve the situation of wanting to have a business lunch in another city in Germany without the hustle of driving or flying there, I came up with the idea of virtual business lunch.
That´s how it works: we sit in front of our screens with Skype to see each other and eat together in different towns, me in Berlin, the client in Munich, for example, and it's fun!
Close